Hello Bloggers! Are you frustrated out of searching a beneficial image editing tool for your projects?
Now, you don't need to. Here in this blog, we have mentioned 8 great image editing tools for bloggers. Other than giving the details of the tool we have also created a section which informs how it is going to be helpful for the bloggers community. Read to know more.
Best Image Editing Tools for Bloggers in 2021
1. Canva (Best Image Editing Tools for Bloggers)
Canva is a graphic design software with features including photo editing, video logo creation, poster creation, and video editing. It can be used to create an Instagram Highlights cover, an Instagram Story, a post or video collage, or a Youtube introduction.
How is it helpful for bloggers?
There are more than 50 thousand freely available templates that can be used for blog design of any kind of project.
It is a simple and free app for editing images and videos.
Bloggers can create blog banners, posters, photo collages, and many more as per their needs.
Now, the most attractive feature of the app is that bloggers con collaborates as a team on the app for free.
You can easily make your comic strips using canvas drag and drop design software.
Canva allows you to design personalized quote posters of professional quality.
It's now easier than ever to make presentations with Canva's drag-and-drop presentation builder.
Canva assists you in creating eye-catching advertisements to draw new customers to your business.
2. Piktochart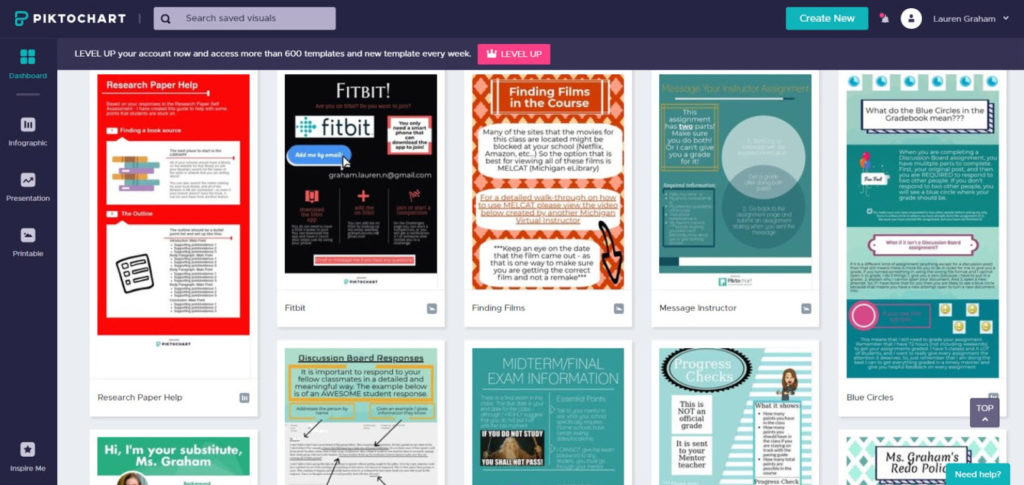 Piktochart makes creating infographics, reports, and presentations easy. Infographics remain a powerful tool for presenting vast volumes of data in an easy-to-understand format.
Visual marketing is a no-brainer, and Picktochart will assist you with it. Piktochart is simple to use, produces professional-looking graphics, and even non-designers can use it.
How is it helpful for bloggers?
Build professional, engaging content in any medium with ease.
Easily create a professional-looking paper, slideshow, chart, poster, or social media graphic that will help you achieve your goals.
The tool also has a feature of a color picker, which helps bloggers to choose colors for their work matching the colors of their website.
The tool saves a lot of time.
The visual inspiration you need is right where you need it with Piktochart's free library of graphics, design elements, and models.
The unique feature is that it offers translation of visual data into visual stories
Piktochart contains more attractive and appealing templates.
This site is useful for bloggers in many helpful ways
3. Pixlr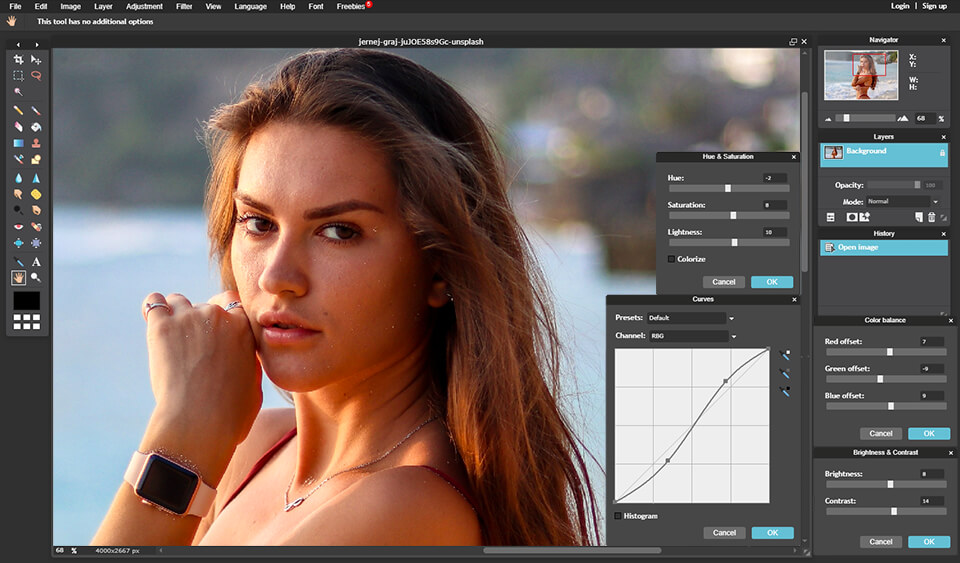 Pixlr is part of the INMAGINE creative ecosystem, which strives to make design simple and open to all. It is the world's most popular cloud and mobile photo editing suite, and its core engine has undergone significant growth. The ability to use AI and Machine Learning to speed up and revolutionize content development has been added to the updates.
How is it helpful for bloggers?
Pixlr allows bloggers to create amazing and mind-blowing designs for free.
This photo editor offers AI Power tools to their users, making it simpler for bloggers to get a professional touch in their designs.
Setups such as PXD, PSD (Photoshop), PNG (transparent), JPEG, WebP, SVG, and many more are supported by the tool So that the file format is not an issue.
It offers a vibrant collection of filters and effects.
Bloggers can remove the backgrounds of images or graphics they are not okay with.
it offers a great variety of editing tools.
From classy to vibrant, so, many templates are offered to the users.
The software keeps on updating and adding new features.
4. Stencil
Stencil is a very simple to use tool for bloggers which yields great outcomes.
It is a tool that allows you to make stunning images in less time than ever before. Stencil can feel right at home even though you've never used picture editing software before.
How is it helpful for bloggers?
The tool offers around 1,275+ wonderful templates.
There are approx 100,000+ Quotes available in the tool itself. It could be a great help for bloggers in enhancing their content.
It has thousands of amazing icons that you can use for both commercial and personal purposes.
Since it is integrated with buffer, you can schedule the picture to be shared on social media once it has been created.
You may adjust the size of each image to suit the image sizes of each social media network.
one can preview your image on all social media sites before sharing it.
It provides its users with 3,450+ Google Web Fonts.
Bloggers must give a try to this tool.
5. PicMonkey
PicMonkey is yet another well-known online photo editing tool. The free Basic version comes with a variety of editing tools that can help you make your image stand out.
It lacks one feature that Canva does: the ability to save your work to the cloud. The tool requires you to do all of your touch-ups and edits at once, then save the final picture to your screen.
How is it helpful for bloggers?
9,000+ graphics & compositions are available in the tool.
There is a huge variety of templates for designing,
Bloggers will be attracted to the amazing and magnificent fonts offered by the tool.
Use a variety of graphics to enliven your projects.
Graphics vector-based, so they'll look great at any scale, and you can customize them to your heart's content.
Offers a great range of effects and filters.
you can perform all the required edits at once and save the final image.
Using this tool saves a lot of time
6. Picozu
Picozu an HTML and CSS3 based photo retouching and drawing tool. It allows you to quickly edit and draw on your images using a variety of brushes, textures, and filters.
How is it helpful for bloggers?
Color fill, selections, cropping, magic eraser, and freehand selection are only a few of the editing resources available.
You don't have to subscribe to edit as many images as you want.
It has retouching capabilities.
Adobe Photoshop PSD files can be imported and edited.
The workspace allows you to work on several images at once and includes dynamic color swatches.
You can link all of your social media accounts to instantly share the photos you've made.
It also have the drawing tool in it.
wit this feature you can also draw up on your images, if required.
7. Fotor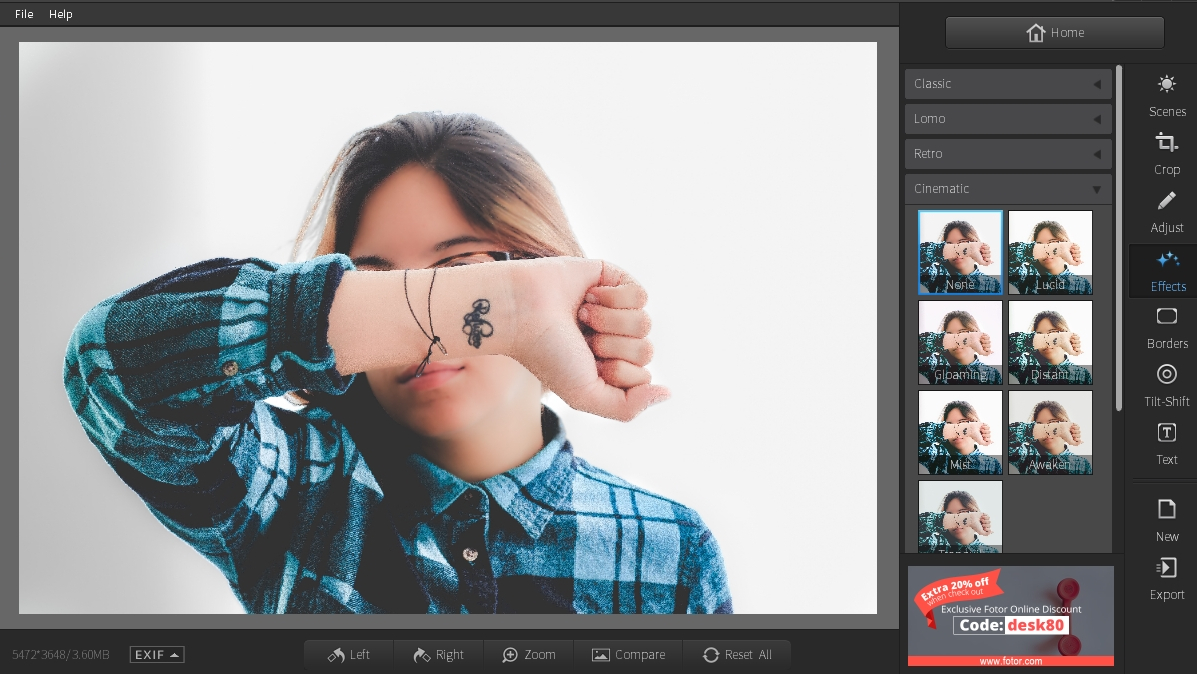 Fotor is a well-known online photo editor that works on both web browsers and desktop computers. In reality, there are several variations of this program, each aimed at a different demographic. However, for blogging, we'll concentrate on the online editor.
How is it helpful for bloggers?
A natural emphasis that sparks the imagination. To focus on your expression stage, Fotor uses circles, lines, and ellipses.
Impact, borders, and stickers with full functionality to help you express yourself.
Using personalized collages, you can easily manage any room. You can easily create anything with Fotor's Collage Creator by selecting your style and placing images where you think they belong.
Enhancements that are applied with a single click bring out the best of your pictures.
You can chisel out your charming image with professional editing tools.
you can use this tool right in your browser or even in your desktop.
Other then mentioned above this tool also offers a variety of other facilities. do check this out.
8. piZap (Image Editing Tools for Bloggers)
PiZap is, in their words, "probably the easiest digital photo editor you'll ever come across." And this mission is primarily due to the developers' desire to make something less complicated than Photoshop. PiZap developers have created a streamlined photo editing platform for bloggers and graphic designers alike by narrowing down the necessary photo editing resources and features.
How is it helpful for bloggers?
Make something you can think of.
1.6 million photographs in the public domain are also available. 
There are 367 fonts available.
Filters that are exclusive and colorful that you won't find anywhere else. So, bloggers why not give this a try.
Hearts and mixed forms are two unusual collage layouts.
Thousands of bright, friendly stickers.
Easy to Use
Packed Full Of Free Content
We hope the blog was helpful for our blogger folks. And they have surely arrived at the tool which meets most of their requirements. Thanks for reading, you may look for other informative blogs on our page.
Also Read: